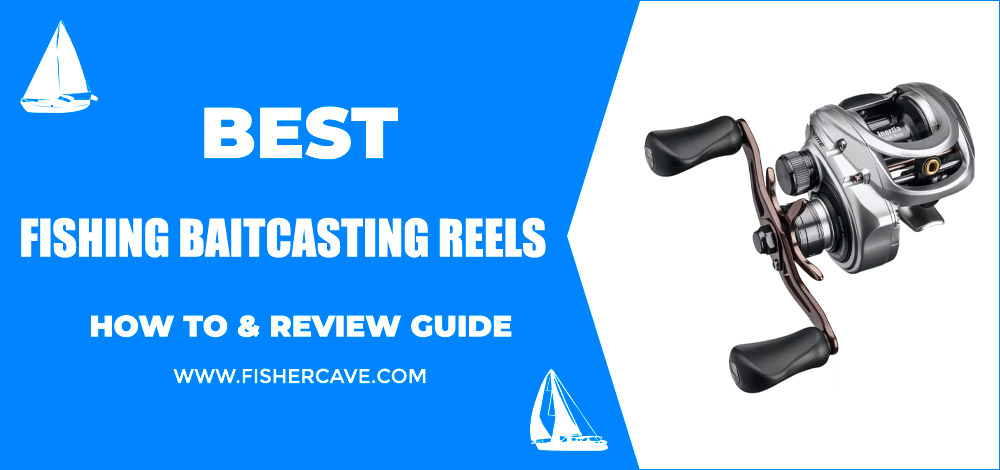 Choosing the right baitcasting reel is essential for any fisherman. With so many different models on the market, it can be difficult to know which one is right for you. To help make your decision easier, we've compiled a list of the top-rated baitcasting reels available today.
Best Fishing Baitcasting Reels Review
From affordable reels perfect for beginner fishermen to top-of-the-line models perfect for experienced anglers, we've got you covered. So, whether you're looking to upgrade your current reel or are just starting out in the sport, be sure to check out our picks for the best baitcasting reels available today.
#1 Shimano Curado MGL Baitcast Reel – CUMGL150XG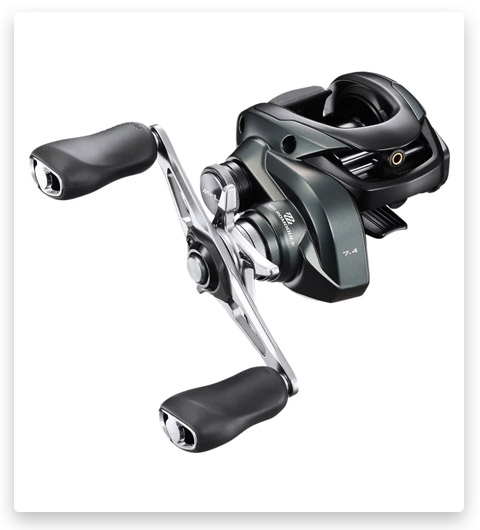 Looking for a versatile baitcasting reel that can handle any fishing situation? Then check out the Shimano Curado MGL Baitcast Reel. This reel is designed for anglers who demand the very best in terms of casting distance and accuracy. But don't let its light weight fool you – this reel is built tough and can handle even the strongest fish. The Shimano Curado MGL Baitcast Reel features the rigid aluminium HAGANE Body and MagnumLite (MGL) Spool for outstanding action on every cast. Additionally, Shimano's precision gearing technologies – such as X-Ship, MicroModule Gearing, and SilentTune – ensure near-effortless winding.
#2 Abu Garcia Revo Rocket Baitcast Reel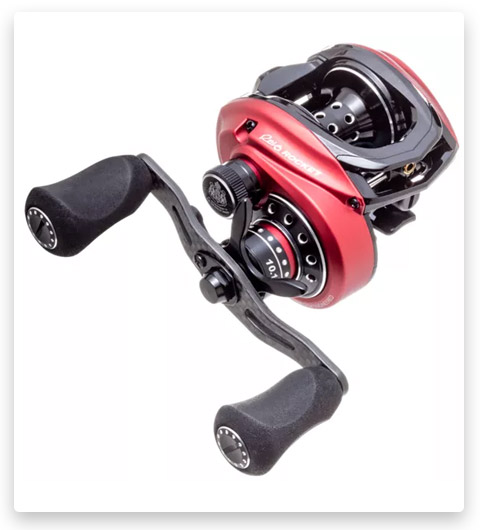 The Abu Garcia Revo Rocket Baitcast Reel is the perfect choice for anglers who demand speed and performance. With a super-fast 10.1:1 gear ratio and 41 IPT retrieve speed, it is unmatched for high-speed techniques. The light and compact design are strong and durable, thanks to the X-Cräftic alloy frame and side plates. The smooth Infini II spool design ensures trouble-free casting, while the Ti-coated line guide protects your line from wear and tear. The high-efficiency D2 Gear Design provides lasting durability, while the Sweet 10+1 bearing system ensures smooth operation.
#3 Lew's Tournament XP Baitcast Reel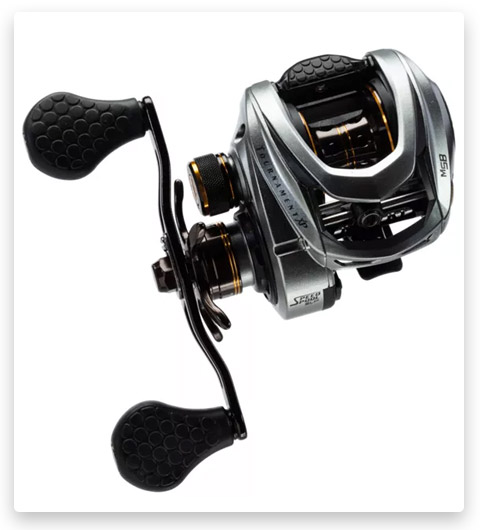 The Lew's Tournament XP Baitcast Reel is one of the most popular baitcasting reels on the market. It's known for its durability, strength, and smoothness. Made with a 1-piece aluminium frame and a double-anodized, machined aluminium U-spool, this reel is built to last. It also has a premium 10-bearing system, which makes for a smoother experience when casting. The externally adjustable Multi-Setting Braking system allows you to customize your drag power, and the carbon fibre drag can handle up to 20 lbs. of fish.
#4 PENN Fathom Baitcast Reel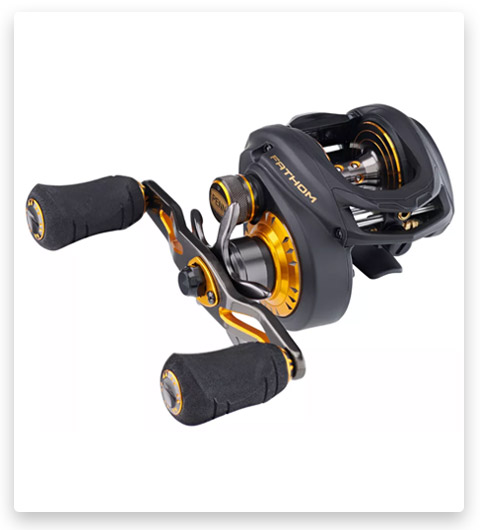 When it comes to baitcasting reels, the PENN Fathom is in a class of its own. Its full-metal body and crank side plate protect internal components from the elements, while its smooth 6+1 stainless steel bearing system ensures smooth operation with every cast. The brass main gear and bearing-supported bronze pinion gear provide lasting durability, and the HT-100 carbon-fibre drag washers apply smooth, relentless pressure at all settings. The dual-action casting brake dials are in control for precise casting, and the line-capacity rings make it easy to keep track of your line status with a quick glance. For a baitcasting reel that performs flawlessly day after day, choose the PENN Fathom.
#5 Daiwa Zillion SV TW Baitcast Reel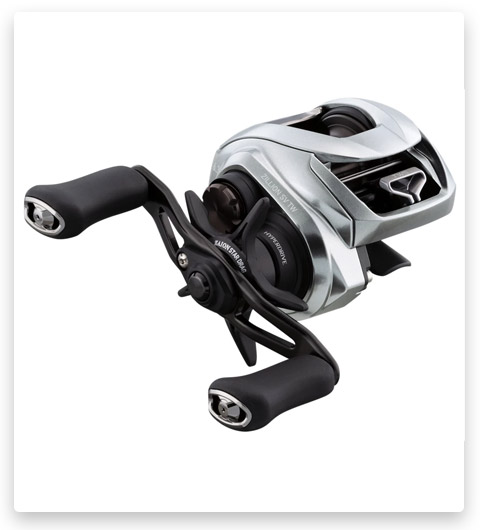 The Daiwa Zillion SV TW Baitcast Reel is a top-of-the-line choice for serious anglers. It features advanced technology for exceptional performance and a lightweight aluminium body for easy handling. The T-Wing System wide-aperture line guide ensures smooth, effortless casting, while the backlash-inhibiting SV system provides increased accuracy and control. The SV Booster System 2-stage spool brake provides extra stopping power when needed, and the 4-component Hyper Drive Design ensures smooth reliable operation. The HyperDrive Digigear design provides maximum durability, while the Hyper Double Support pinion ensures precise gear alignment.
#6 Bass Pro Shops Extreme Baitcast Reel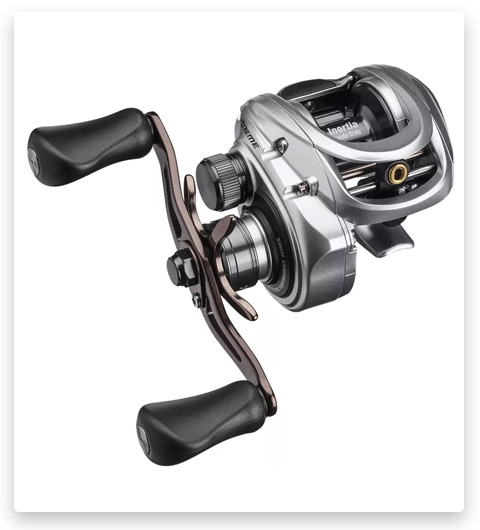 Check out the Bass Pro Shops Extreme Baitcast Reel. Made with an aluminium frame and graphite side plates, this reel is built to last. The diecast aluminium spool and titanium-coated line guide make for smooth casting, while the smooth 6+1 bearing system ensures reliability. Plus, the PowerLock instant anti-reverse and Inertia Transfer Braking System make for a smoother experience. The soft-touch thumb bar and 90 mm aluminium Recurve handle make for comfortable use, even when you're fishing all day long. So don't settle for anything less than the best – pick up a Bass Pro Shops Extreme Baitcast Reel!
#7 Ardent Apex Elite Baitcast Reel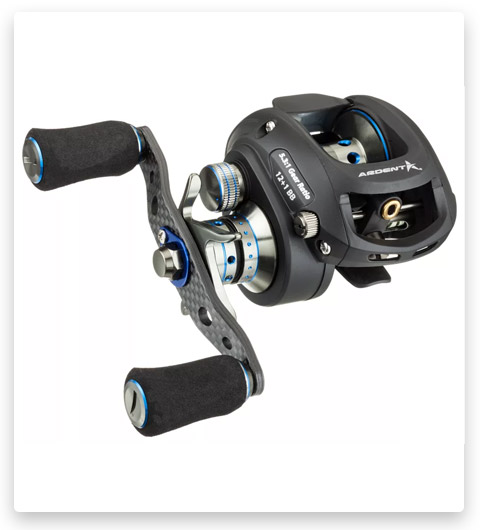 The Ardent Apex Elite is the perfect baitcasting reel for those looking for superior castability and handling. The lightweight and high-strength aluminium frame ensure that this reel will be able to withstand any fish, while the deep V6061 T6 machined aluminium spool provides the smoothness and power needed to make perfect casts every time. The 12+1 ball-bearing system ensures an ultra-smooth experience, while the externally adjustable 270-degree Mag brake makes it easy to control your line. The extra-long, swept-back carbon fibre handle with EVA grips provides the comfort and grip needed to land even the biggest fish, while the swept-back forged aluminium drag star ensures smooth operation.
#8 Daiwa Steez SV TWS Baitcast Reel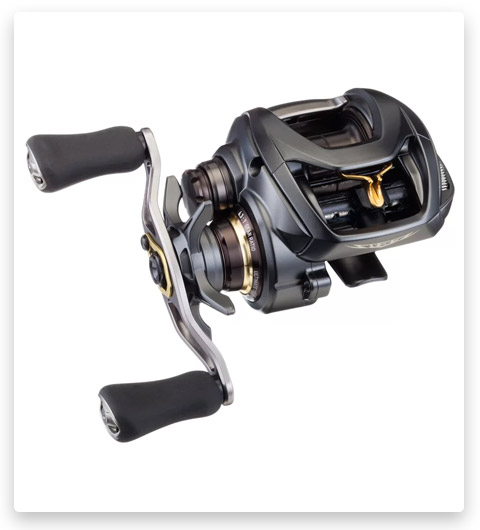 The Daiwa Steez SV TWS Baitcast Reel is an incredibly light and responsive reel that is perfect for anglers who demand the ultimate in accuracy, distance, and trouble-free execution. The reel features a magnesium Airmetal frame and side cover, an innovative T-Wing line guide aperture, and a G1 Duralumin shallow SV spool. The 13-bearing (12+1) system with 12 CRBBs ensures smooth operation, instant anti-reverse, and air brake cast control with handle-side zero adjusters. The reel also features a UTD carbon drag system for increased durability and an 80 mm swept handle with soft-touch knobs for added comfort.
#9 Shimano Chronarch MGL Low-Profile Baitcast Reel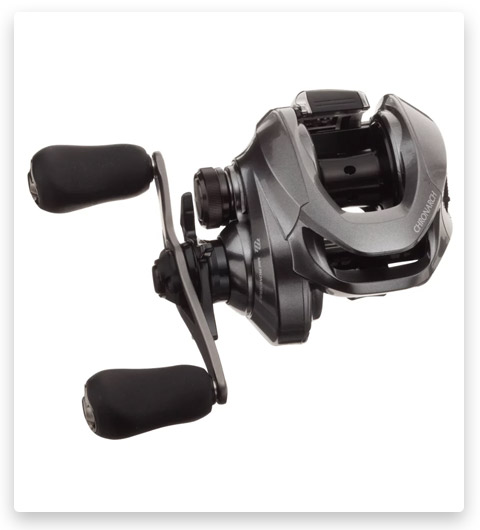 The Shimano Chronarch MGL Low-Profile Baitcast Reel is a top-of-the-line reel designed for the serious angler. It has been retooled for enhanced performance, with increased casting distance and incredibly smooth, silent, effortless retrieves. The frame and side plates are made of high-rigidity graphite that is resistant to corrosion, while the spool is made of super-lightweight aluminium. The gearing is a micro-module with double the gear teeth, and the cast control is external. The drag is a star with up to 11 lbs. of maximum drag.
#10 Bass Pro Shops Crappie Maxx Baitcast Reel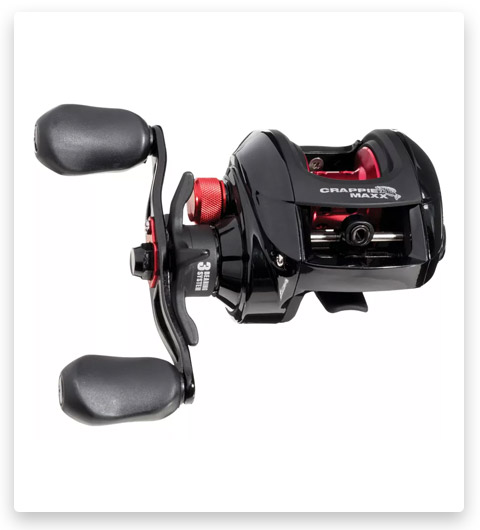 Check out the Bass Pro Shops Crappie Maxx Baitcast Reel. This top-of-the-line reel features a blazing 6.3:1 gear ratio, making it ideal for resetting in deep water or quickly pulling slabs out of cover. The Crappie Maxx is built around a lightweight graphite frame and features an aluminium spool and durable zirconia line guide. Its smooth 3-bearing system includes Powerlock instant anti-reverse, for instant hooksets with smooth, hitch-free retrieves. And the external magnetic braking system ensures smooth, consistent casting performance.
#11 Daiwa Steez A TW Baitcast Reel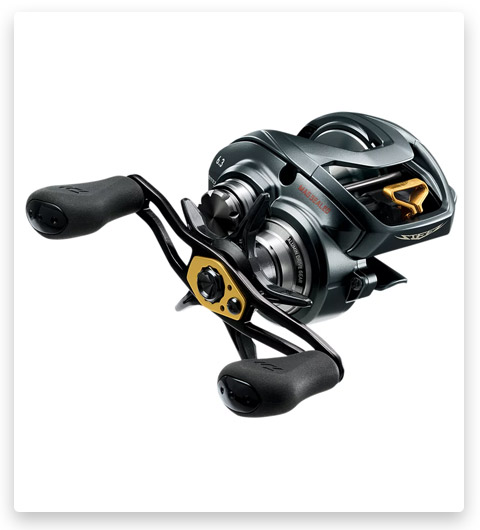 The Daiwa Steez A TW Baitcast Reel is the top-of-the-line bass reel, perfect for both fresh and saltwater fishing. With its all-aluminium housing and Zaion side plate, this reel is stronger and more durable than ever, delivering long, accurate casts. The Magsealed ball bearing at the pinion gear ensures a smooth, quiet operation, while the patented T-Wing System provides added power and distance to your cast. The high-capacity G1 Duralumin spool ensures smooth operation even under heavy loads, while the Magforce Z 20-step cast control system provides precise control over your line.
#12 Shimano Metanium DC Low-Profile Baitcast Reel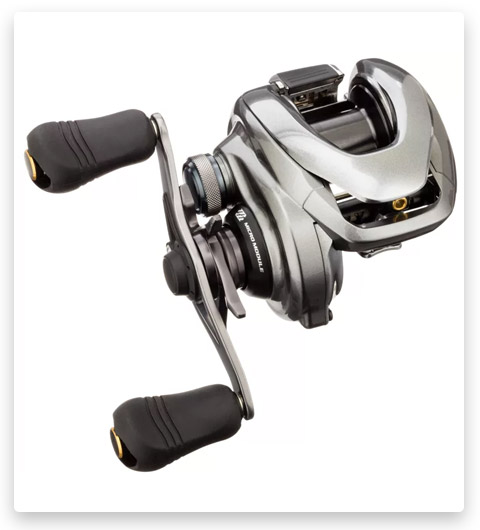 Shimano's Metanium DC Low-Profile Baitcast Reel is a high-performance reel designed for the advanced angler. Equipped with Shimano's I-DC5 braking system, it allows fine-tuning by both lure and line type. The self-adjusting, microcomputer-driven Intelligent Auto mode provides superior cast control, while the Super Free Spool friction reduction ensures smooth, consistent performance. The rigid Hagane body construction ensures durability and reliability, and the S3D Shimano Stable Spool Design provides perfect mesh every time. The powerful MicroModule gearing system provides unmatched power and performance, and the X-Ship pinion gear support system ensures outstanding durability.
FAQ
Conclusion
Fishing Baitcasting Reels are an important piece of gear for any fisherman. In this article, we've reviewed some of the best Fishing Baitcasting Reels on the market and given you some tips on how to choose the right one for you. Whether you are a beginner or an experienced fisherman, we hope that this article has helped you in your search for the perfect Fishing Baitcasting Reel.