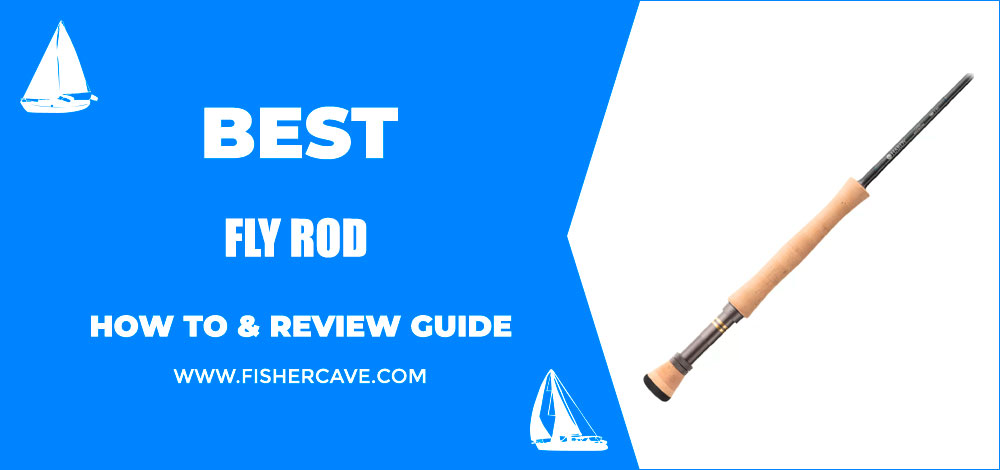 Are you in the market for a new fly rod? If so, allow us to recommend some of the best fly rods on the market today. Our top-rated fly rods are perfect for anglers of all skill levels, and they're built to deliver premium performance under any condition.
Best Fly Rods Review
Whether you're looking for a versatile all-around rod or something specialized for a specific application, we've got you covered. So read on to learn more about our favourite fly rods and find the perfect one for your next fishing adventure!
#1 Redington Claymore Trout Spey Fly Rod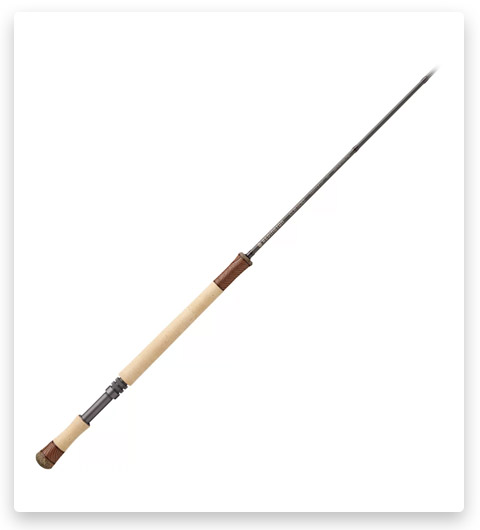 The Redington Claymore Trout Spey Fly Rod is perfect for anglers who want to expand their catch radius for trout. This fast-action 2-handed Spey rod features a smooth and powerful blank that provides excellent line control. Additionally, the anodized aluminium down-locking reel seat improves weight balance, while the epoxy-coated section tips prevent sticking. The rod also comes with a Cordura rod tube with dividers for easy storage and transport. Best of all, it is backed by a manufacturer's lifetime warranty.
#2 St. Croix Imperial Salt Fly Rod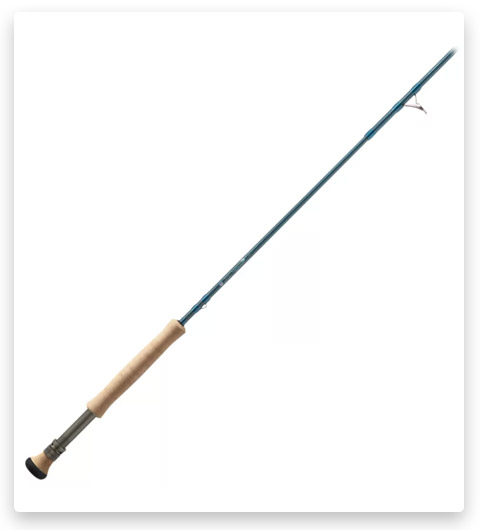 The St. Croix Imperial Salt Fly Rod is perfect for anglers who demand the very best. This high-performance fly rod features integrated Poly Curve (IPC) mandrel technology for smooth action, increased strength, and greater sensitivity. The slim-profile ferrules and Sea Guide PVD-coated guides make for a sleek, durable design. The uplocking, machined-aluminium reel seat ensures a comfortable, secure grip. This premium fly rod also includes a rod case with a handle and divided liner.
#3 G.Loomis Asquith Global All-Water Fly Rod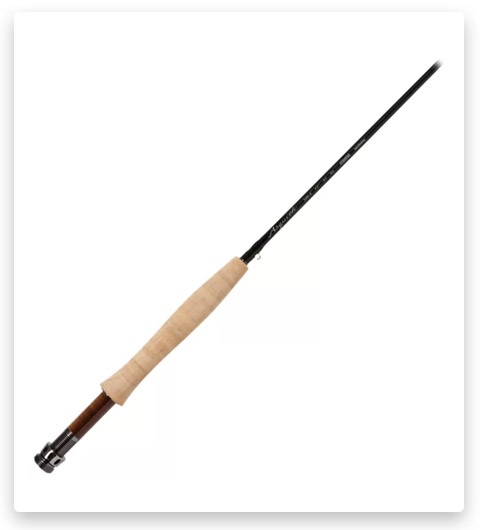 The G. Loomis Asquith Global All-Water Fly Rod is the world's most advanced fly rod, globally crafted with a 4-piece Spiral X multilayer blank and unique reverse-wrap outer layer for amazing rigidity and sensitivity. It is hand-finished with top componentry for perfect flexion, consistent line speed and loop control, superior distance and shoot ability, and outstanding fighting strength. The Asquith All-Water comes with a soft rod sock and travel case.
#4 Cabela's Bighorn Fly Rod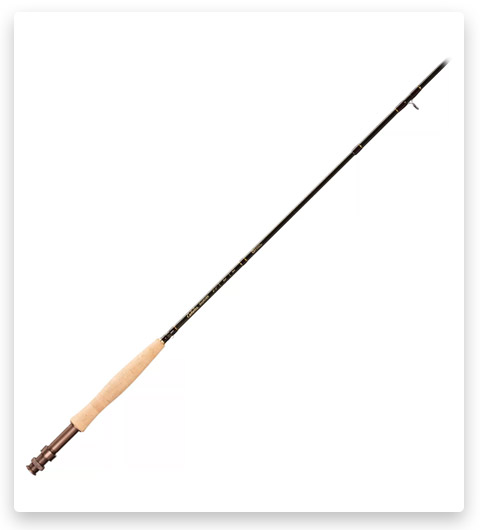 Looking for an affordable and reliable fly rod? Look no further than the Cabela's Bighorn Fly Rod. This rod is perfect for beginner and intermediate anglers with its forgiving moderate action. It is also crafted using 24-ton carbon graphite, meaning it is durable and will last you many fishing trips. In addition, it comes with high-quality components such as zirconium-ring stripping guides, chrome snake guides, and a stainless steel tip top. So don't wait any longer, get the Cabela's Bighorn Fly Rod today!
#5 Fenwick AETOS Fly Rod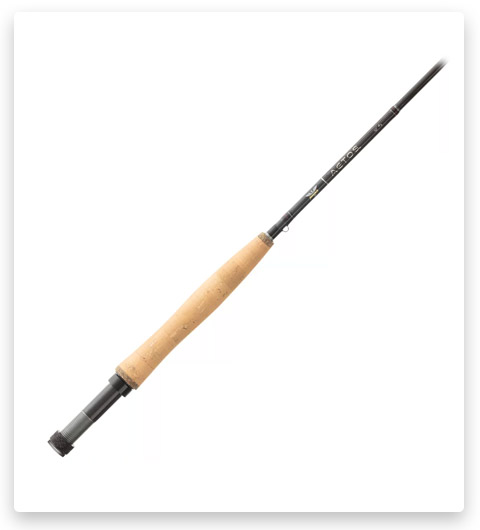 If you're looking for a fly rod that can help you take your fishing to the next level, check out the Fenwick AETOS. This high-performance rod is built with a nano-composite blank that's designed for fast action, making it ideal for anglers who want to cover more water and reach those difficult-to-get-to spots. Plus, it comes equipped with two-tone anodized aluminium reel seats with carbon inserts and AAA-grade cork handles for a comfortable grip. It also comes with a protective rod sock and hard tube and is backed by a manufacturer's 5-year limited warranty.
#6 Greys GR60 Fly Rod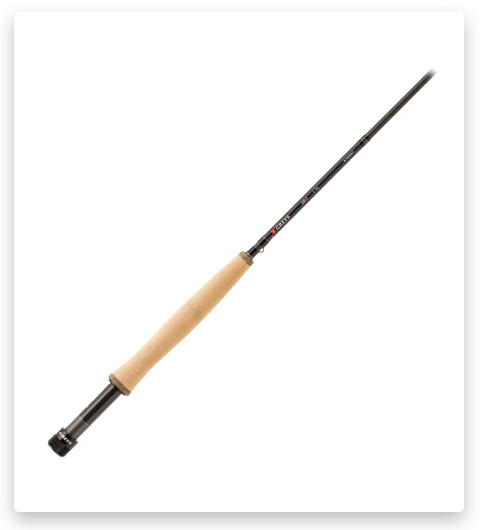 Check out the Greys GR60! This rod is constructed with Toreon nano-blank technology for unbeatable strength and durability and has a fast progressive action that's perfect for a variety of fishing situations. Additionally, it features a stealth black-satin blank finish and comes with a two-tone anodized aluminium reel seat with a woven carbon insert. The AAA cork handle provides a comfortable grip, while the section ID line-up marks make assembly a breeze. Plus, it comes wrapped in a cloth bag in a protective tube for easy transport and storage. Whether you're a beginner or an experienced angler, the Greys GR60 is the great choice for you!
#7 Hardy Zane Saltwater Fly Rod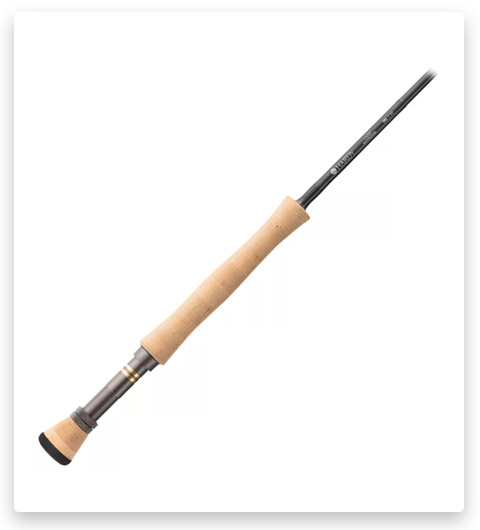 The Hardy Zane Saltwater Fly Rod is perfect for versatile fishermen who want a high-quality product that can take on any predator-catching challenge. Built on the award-winning Sintrix 330 blank, this rod has a versatile medium-fast action and excels in a variety of conditions. Additionally, its high strength-to-weight ratio ensures that you won't be weighed down by your gear, making it ideal for long days on the water. An anodized bar-stock aluminium, up-locking reel seat resists corrosion, while high-quality ceramic-lined titanium stripper guides, oversized snakes and tip-top guides provide the durability and performance you need!
#8 Temple Fork Outfitters LK Legacy TH Spey Fly Rod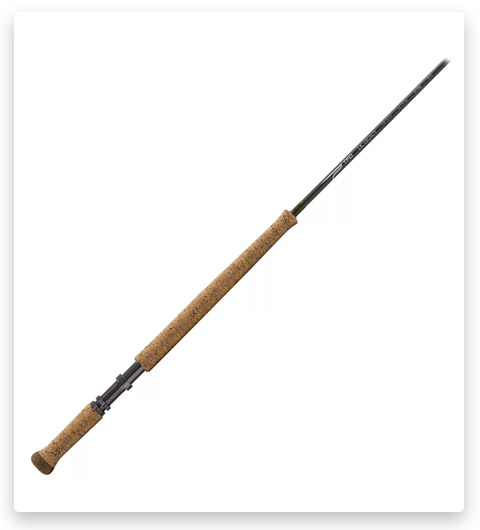 The Temple Fork Outfitters LK Legacy TH Spey Fly Rod is a top-of-the-line choice for intermediate to advanced anglers. With its fast-action blanks and high-modulus carbon-fibre construction, this fly rod is designed for casting long, heavy fly lines and sink tips. You'll be able to reach out to places you've never cast before with ease thanks to the smooth, effortless line loading that this rod provides. The matte grey blanks with hunter-green thread wraps are accented by black-frame stainless steel stripping guides and anodized double-foot stainless steel snake guides.
#9 Sage Maverick Fly Rod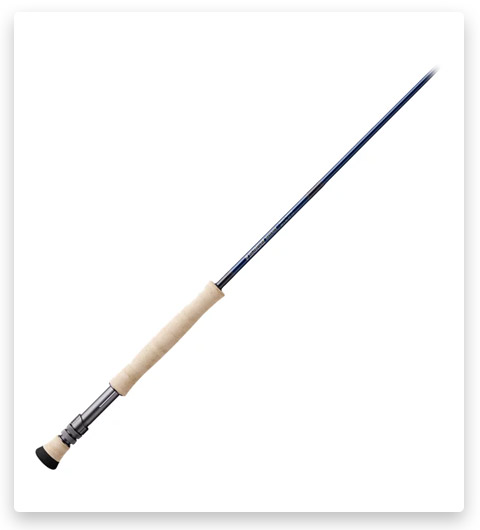 The Sage Maverick fly rod is the perfect choice for saltwater anglers who demand quick reflexes and straight-shooting accuracy. With a responsive blank and powerful tip and butt sections, this rod is quick to reload and recast, making it ideal for fast-paced fishing. Konnetic Technology ensures a light blank with incredible hand-to-fly sensitivity, while advanced modulus positioning of the carbon fibres slims down the blank profile for superior strength and efficient energy transfer throughout the shaft. The Pacific-blue-colored blank comes equipped with oversized Fuji ceramic stripper guides, hard-chromed snake guides and tip-top, and a corrosion-resistant anodized aluminium reel seat.
#10 Orvis Helios 3F Fly Rod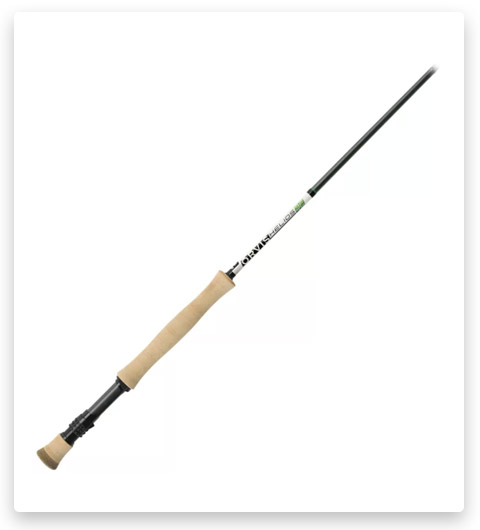 The Orvis Helios 3F fly rod is a revolutionary design that enables anglers to casts their line with amazing accuracy. The primary use of this versatile fly rod is for freshwater fishing, but it can also be used in other kinds of water with great results. The secret to the success of the Orvis Helios 3F fly rod is its focus on energy distribution. By channelling the casting energy directly to the target, there is very little horizontal or vertical tip frequency. This results in a much more efficient and smoother casting experience that is practically effortless. Additionally, the matte storm blank and anodized aluminium reel seat with a carbon insert help to further reduce weight and increase sensitivity. This makes the Orvis Helios 3F the perfect fly rod.
#11 Okuma Crisium Fly Rod
The Okuma Crisium Fly Rod is a powerful and pliable tool that any fisherman will love. Made from a slew of tough and high-end materials, this fishing rod from the pros at Okuma is built to last. For quite some time, Okuma has been a respected leader in the world of fishing, and the Okuma Crisium Fly Rod showcases their commitment to providing consumers with the sturdiness and supreme functionality that is required. We, at OpticsPlanet, have made it our goal to ensure that you have the most effective devices on the market, and the Okuma Crisium Fly Rod is one of many fishing tools that we are ecstatic to offer.
#12 Snowbee Prestige G-XS Fly Rod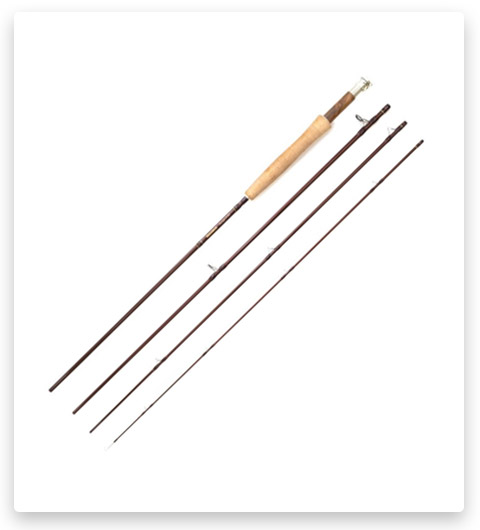 The Snowbee Prestige G-XS Fly Rods are perfect for anglers looking for a high-quality, lightweight fly rod. These rods are made from the highest quality materials, and they're designed to provide exceptional performance and durability. The anodized silver/gold reel seats and maple burl reel seat inserts add a touch of class to these rods, while the cork handles provide a comfortable grip. The Snowbee Prestige G-XS Fly Rods come in a package that includes a protective rod tube, making it easy to transport your rods to and from the water.
#13 Snowbee Classic Series Fly Rod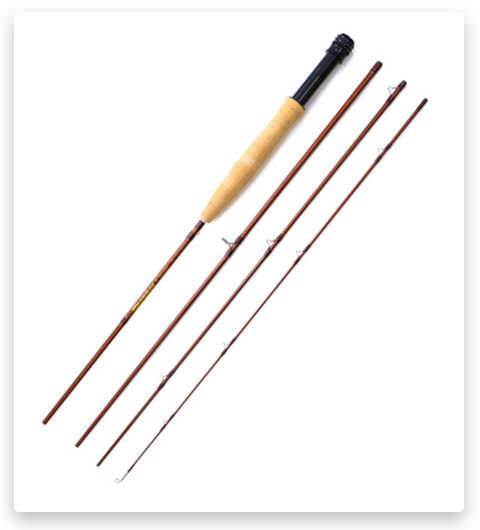 The Snowbee Classic Series Fly Rods are perfect for those just starting out in fly fishing or for those looking for a great fly rod at an affordable price. These high modulus, lightweight graphite rods have an easy mid-fast action for effortless casting. The A-grade cork handles and beautiful hazel colour of the rods make them not only functional but also aesthetically pleasing. The black aluminium reel seat and half wells add to the overall look of the rod while also providing durability and function. The lined stripper rings, high lift snake intermediates, and oversize hayfork tip ring all contribute to the performance of the rod, making it a top choice for any fisherman.
#14 Moonshine Rod Co. The Drifter Series Fly Fishing Rod

The Drifter Series Fly Fishing Rod from Moonshine Rod Co. is a high-quality, 4-piece rod made with performance medium action graphite and top-grade AAA cork grips. The double-locking, dyed reel seats showcase the impressive wood graining of the cork grips, while the copper anodized hardware keeps the rod finish sleek and durable. This model comes with two-rod tip sections and a durable hard canvas fly rod tube embroidered with the Moonshine logo. The tube protects your fly rod from bumps, dirt, water, mud, and more, while the compact design gives you the freedom to fly fish anywhere. Whether you're a beginner or an experienced angler, this versatile fly fishing rod is a good choice!
#15 Piscifun Sword Graphite Fly Fishing Rod
The Piscifun Sword Fly Fishing Rod is the perfect choice for anglers who demand top performance and durability. Built with IM7 graphite for unbeatable strength and accuracy, this rod also features a machined aluminium reel seat with double lock rings for a sturdy reel attachment. The ceramic stripping guide inserts and chrome guides offer smooth gliding action for your fly line, while the 4-piece design makes it easy to transport. Whether you're targeting trout in a small stream or bass in a large river, the Piscifun Sword Fly Fishing Rod has the power and precision you need to land the big one.
FAQ
Conclusion
When it comes to fly rods, you want the best of the best. Luckily, we've got you covered with our comprehensive buyer's guide. In this article, you will find information about what to look for when purchasing a fly rod, as well as reviews of some of the top-rated models on the market. So whether you are a beginner just starting out or an experienced angler in search of a new rod, read on for all the info you need to make an informed purchase.