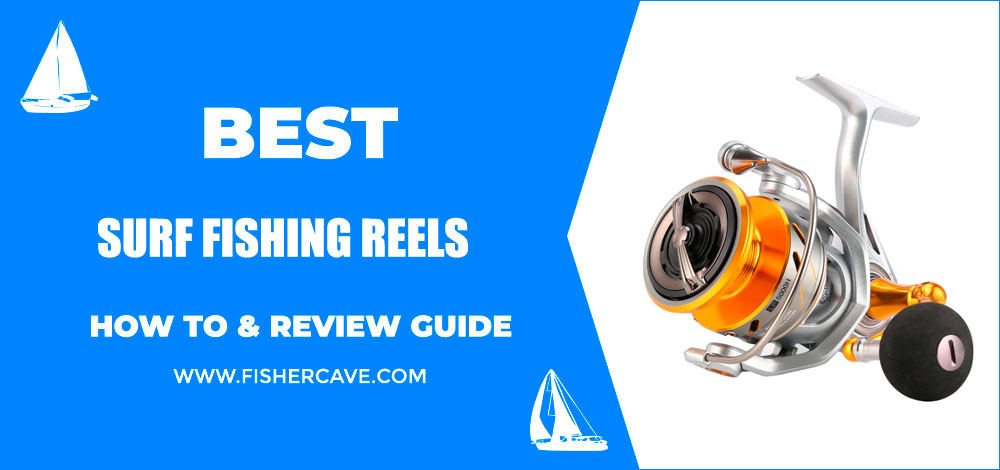 Surf fishing can be a fun and challenging way to spend a day out on the water. Whether you're a beginner or experienced fisherman, finding the right reel is essential to a successful surf fishing trip. With so many options on the market, it can be hard to know which one is right for you.
Best Surf Fishing Reels Review
In this blog post, we'll walk you through our top-rated surf fishing reels and help you choose the best one for your needs. So, whether you're looking for a new reel to add to your collection or just starting out, read on for the best options available!
#1 Daiwa Fuego LT Spinning
The Daiwa Fuego LT Spinning Reel is a high-quality reel that is built to last. Featuring a Carbon Light Material Housing, this reel is designed for durability and performance. The Magsealed construction ensures that this reel will withstand the elements and keep your line in place. The Machined Aluminum Screw-In Handle provides a comfortable grip while the 7 Bearing System keeps your line moving smoothly. With a retrieve rate of 34.50″ and a max drag of 22 lbs., this reel is perfect for anglers of all levels.
#2 Daiwa Saltist Spin 8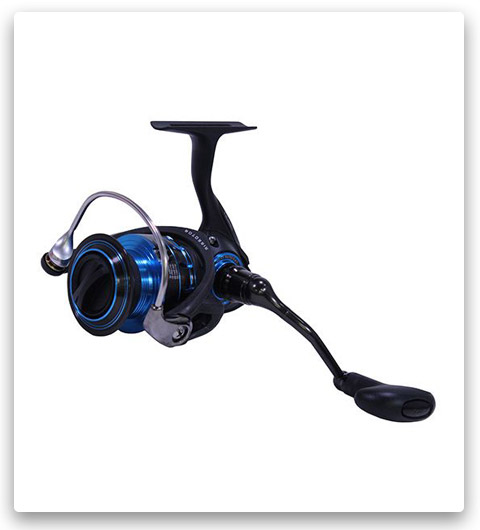 The Daiwa Saltist Spin Reel is a high-quality reel that is perfect for anglers of all levels. It features a Hardbodyz Aluminum frame and side plate, an eight-bearing system, 1Magsealed 7CRBB 1RB, Air Rotor and Air Bail, a Digigear gear drive system, and a waterproof Carbon ATD Drag System. This reel also has a max drag of 33 pounds and can hold up to 370 yards of 20-pound mono or 550 yards of 50-pound braid.
#3 Lew's TL Hypr Mag SS SLP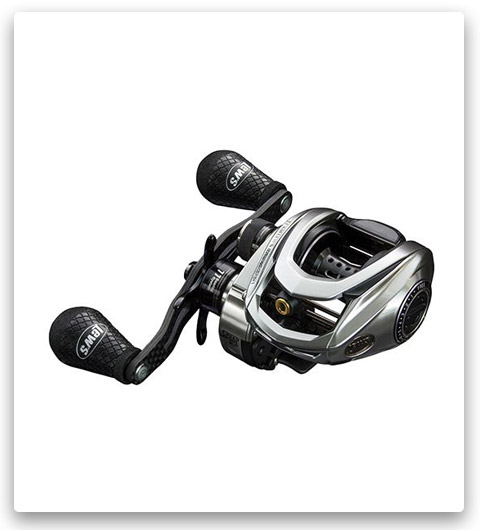 The Lew's TL Hypr Mag Reel is a top-of-the-line reel perfect for the serious angler. Its one-piece magnesium frame with lightweight carbon side plates makes it incredibly durable, while its aircraft-grade double anodized Duralumin drilled and chamfered U-shape 32mm spool ensures smoothness and precision. Additionally, its externally adjustable 4-pin, 27-position, SpeedCast adjustable centrifugal braking system (ACB) provides ultimate control, while its rugged carbon fibre drag system can handle up to 20 lbs. of drag power. Finally, its titanium-coated Zirconia line guide and exclusive patented Speed Dial line indicator make this reel a must-have for any serious fisherman.
#4 Okuma Avenger Spinning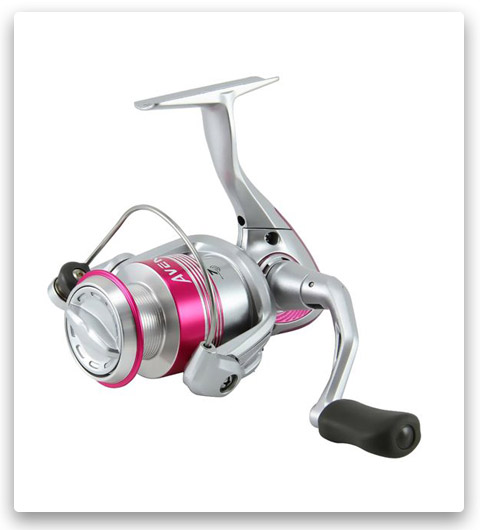 The Okuma AvengerSpinning Reel is a high-quality reel that is perfect for anglers of all skill levels. It features pink metallic accents, a multi-disc drag system, and 6 BB + 1RB for ultimate smoothness. The Quick-set anti-reverse roller bearing makes it easy to use, while the precision machine-cut brass pinion gear ensures lasting durability. The corrosion-resistant graphite body and precision elliptical gearing system make the Okuma AvengerSpinning Reel an outstanding choice for any fishing enthusiast.
#5 Zebco 10bb 25sz Spin Reel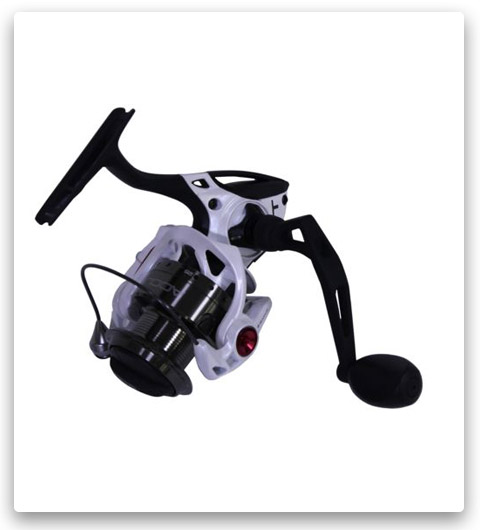 If you're looking for a top-quality spinning reel that's built to last, the Quantum 10bb 25sz Spin Reel is a great choice. With seven bearings and a ceramic clutch, it's designed for smooth, trouble-free operation. The Ni-Ti bail system ensures reliable performance, while the continuous anti-reverse keeps you from being tangled up in your line. And with a maximum drag of 16 pounds, it can handle even the biggest fish. So whether you're an experienced angler or just getting started, the Quantum 10bb 25sz Spin Reel is a great choice for all your fishing needs.
#6 PENN Battle II & III Spinning Fishing Reel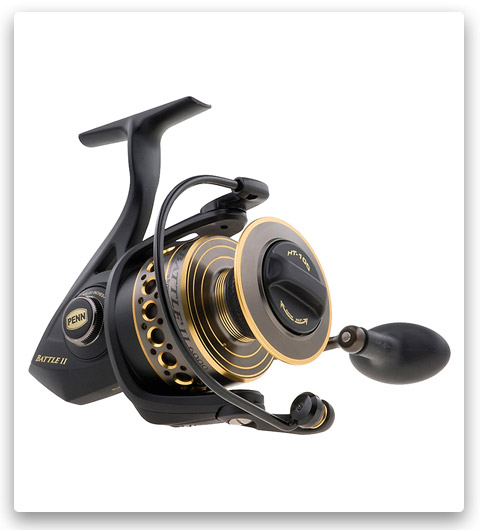 You need a PENN Battle Spinning Fishing Reel. This reel is built to handle big fish with its durable full metal body, side plate, and rotor. The heavy-duty aluminium bail wire ensures lasting performance, while the fluid cranking with 5 sealed stainless steel ball bearings and instant anti-reverse bearing makes for a smooth experience. The superfine spool requires no backing and is braid ready, making it ideal for saltwater fishing. Plus, the line capacity rings are marked at 1/3, 2/3, and full capacity so you always know how many lines you have left.
#7 KastKing Sharky III Fishing Reel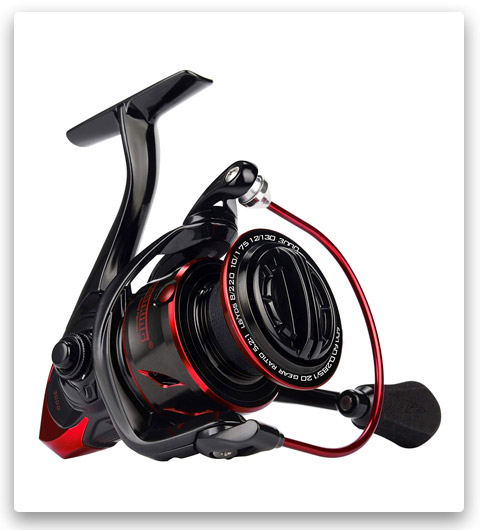 Check out the KastKing Sharky III Fishing Reel. This next-generation reel is built tough to handle anything you throw at it, whether you're fishing in saltwater or freshwater. The Sharky III features a high percentage fibre reinforced graphite body and rotor, as well as a best-in-class triple disc carbon fibre drag system that can handle up to 39.5lbs of fish. It also has an oversized stainless steel main shaft and stronger precision mesh manganese brass pinion gears for added durability. Plus, the unique Intrusion Shield System helps keep water and dirt out of the reel!
#8 Cadence CS7 Spinning Reel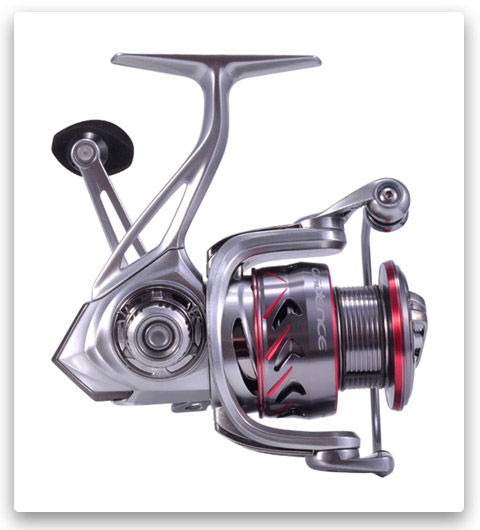 The Cadence CS7 Spinning Reel is the perfect choice for anglers who demand quality and value. The reel features an aluminium frame, 9 ball bearings + 1 instant anti-reverse bearing, a carbon composite rotor and side plate, a braid-ready machined aluminium spool, and an oversized ergonomic EVA handle knob. With its quality construction and materials, the CS7 provides unparalleled value in its class. Whether you're an experienced angler or just starting out, the Cadence CS7 is the ideal spinning reel for your fishing needs.
#9 SeaKnight Rapid Saltwater Spinning Reel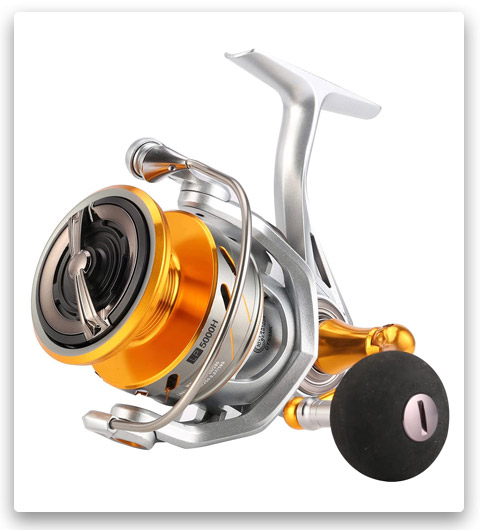 The SeaKnight Rapid II is a top-of-the-line saltwater spinning reel that is perfect for anglers who demand the best performance and durability. Featuring an anti-corrosive coating, this reel can withstand the harsh conditions of both salt and fresh water fishing. The main shaft is thicker and made from stainless steel, while the ball bearings are all shielded and made from high-quality materials. This results in an amazingly smooth reel that can handle the biggest and strongest fish. The aluminium spool and rotor structure are sealed to prevent water and sand from entering the gears, making this one of the most durable reels on the market. With a powerful drag system that can handle up to 33 pounds, this reel is perfect for anglers!
#10 KastKing Summer and Centron Spinning Reels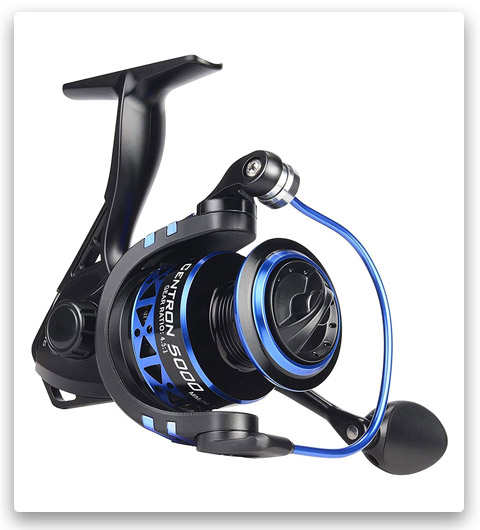 Looking for a great value spinning reel that's packed with features? Look no further than the KastKing Summer/Centron. This reel is perfect for anglers of all levels, from beginner to pro. It's lightweight and compact, yet powerfully built with a Superior Drag System that can handle up to 17.5lbs of fish. Plus, it boasts nine quality ball bearings and one instant stop one-way anti-reverse bearing for ultra-smooth performance. And with its sleek design, the KastKing Summer/Centron looks good out on the water. So don't miss your chance to land a great deal on an amazing spinning reel.
#11 PENN Conflict II Spinning Reel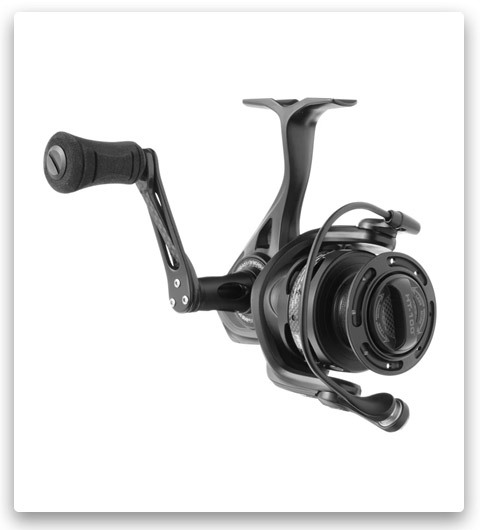 Designed for the technical angler, the PENN Conflict II Spinning Reel is a lightweight and sleek reel that puts out more drag power than the popular Battle II. It features a tough Rigid Resin RR30 body and rotor, protected by a stealthy black-and-smoke finish. The braid-ready super line spool has line capacity rings for at-a-glance reference, and the thicker aluminium bail wire adds extra toughness to the mix. Powered by HT-100 carbon fibre drag washers, it also has a 7+1 sealed stainless steel bearing system and an aluminium handle with an EVA knob for a firm, comfortable grip. Great for salt- or freshwater fishing.
#12 PENN Spinfisher VI Live Liner Spinning Reel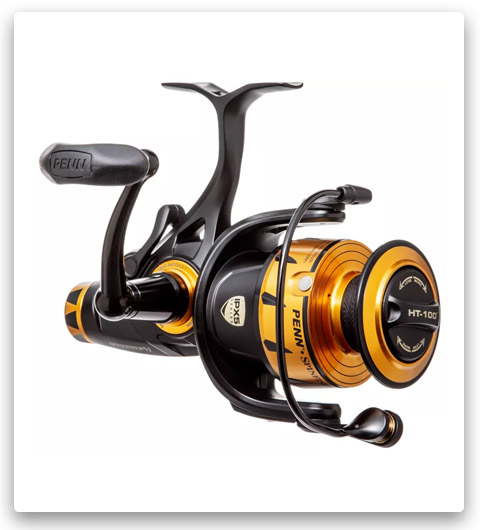 The PENN Spinfisher VI Live Liner Spinning Reel is essential for live bait and finicky game fish. The 4-position Live Liner drag system lets you adjust the drag on your line, while the full metal body and side plates provide durability and power. CNC Gear technology ensures precision and accuracy, while the IPX5 Sealed body and spool design protect your reel from the elements. The HT-100 carbon fibre drag washers provide smooth, consistent drag, and the line capacity rings let you know how much line you have left. The superfine spool is perfect for braided lines, making this reel a great choice for serious anglers.
FAQ
Conclusion
Surf fishing is a popular sport, and it's one that can be enjoyed by anglers of all skill levels. Whether you're a beginner or an experienced fisherman, using the right equipment will make your experience much more enjoyable – and productive. In this article, we've highlighted some of the best surf fishing reels on the market today. We've also included some tips to help you choose the right reel for your needs. So, whether you're looking for something affordable or you want the very best in terms of quality and features, we have you covered. Thanks for reading!